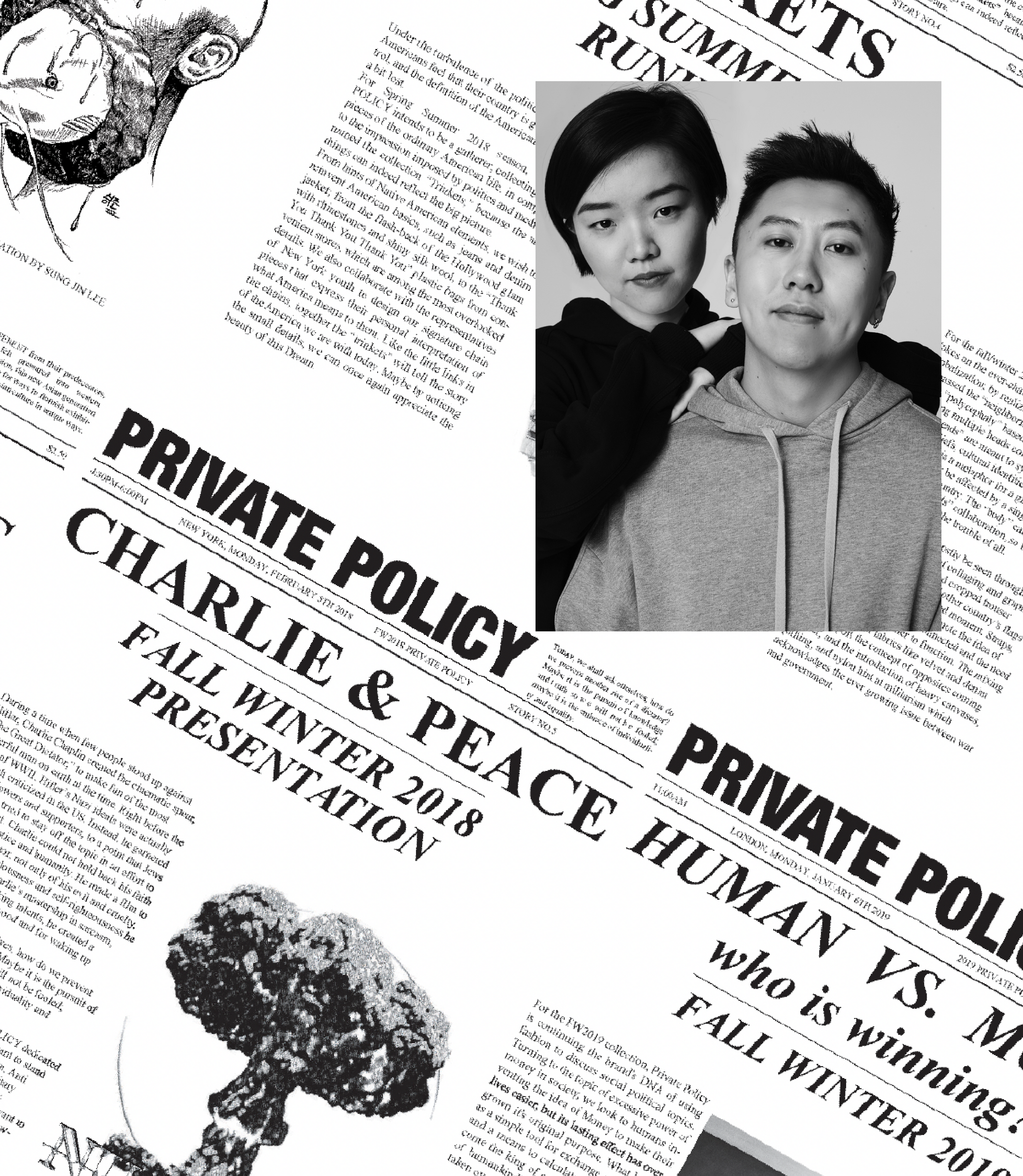 private policy
/ˈprīvit/ /ˈpäləsē/
make your own rules.


PRIVATE POLICY New York is a genderless apparel brand, dedicated to bringing New York's rebellious style and fierce free spirit to the world. Our design process is modeled after newspaper outlets; by zeroing in on one social topic each season, we create focus and awareness. We've explored topics like enslaved fishermen, an issue covered in our SS2017 collection. We've discussed humanity's relationship with money for our FW2019 collection. And we explored a harmonious future between nature and booming metropolitan life in our recent SS2022 and FW2023 seasons. 
PRIVATE POLICY New York's founders and creative directors, Haoran Li and Siying Qu, both from China and graduates of Parsons School of Design, have been nominated by the Fashion Group International as Rising Stars, listed on Forbes China's 30 under 30, and won the GQ China Present Award. In 2019, they became finalists of the CFDA VOGUE Fashion Fund, won the Lane Crawford Global Creative Callout in 2020, and most recently received the CFDA x Genesis AAPI Design + Innovation Grant.
PRIVATE POLICY New York is stocked at international department stores and amazing concept boutiques all over the world. Through cross-industry collaborations, such as with Coca-Cola, CASETiFY, Harry's, White Claw, and a plethora of nonprofits, PRIVATE POLICY New York is able to take action on the topics we discuss and share our creative vision for everyone to experience. With sustainability and diversity as the constant pursuit, we believe fashion is our outlet to express creativity, build community and inspire meaningful conversations. We design for people who heart fashion and mind the world!
FALL WINTER 2023 - WE ARE ALL ANIMALS
PRIVATE POLICY FW23 fashion collection, "We Are All Animals," is an exciting and thought-provoking celebration of the interconnectedness of all living beings on this earth. With bold graphic designs featuring baby versions of endangered animals such as the Amur Leopard, Yangtze Finless Porpoise, and Mountain Gorilla, our collection serves as a powerful call to action for the love and care of our animal neighbors. Additionally, the collection is crafted with sustainability in mind, featuring utilitarian details such as harnesses, tactile pockets, and buckle hardware made from unwanted denim garments donated by our community, and statement outerwear designs made of recycled poly faux fur. We encourage individuals to embrace the freedom and compassion inherent in our animal behavior and let go of the greed for fame and money, live like animals, one day at a time.
SHOP NOW
SPRING SUMMER 2023 - NOAH'S ARK
With the SS23 runway show, we envisioned a dream world of marrying my favorite 90s New York club scenes and the idea of Peace for all animals on Earth inspired by our collection source narrative, Noah's Ark. To present the wild possibility of a new urban life where animals and humans can live in harmony, or even rave together. It would be impossible to have live wild animals in our show venue, so we spoke with Jess Hu, our three-season-long show soundtrack collaborator about mixing endangered animal species' sounds into modern techno rave music for our SS23 show. Music is so spiritual. And for a runway show, it can be the invisible bond and fill the space with emotions. After many nights of back-and-forth editing and ideas flowing, Jess and Lawrence Jung, the producer, delivered this magical and powerful soundtrack, titled Club Ark. And it was surely wild when it played at the show, to hear a storm coming in the beginning, dove wings flying away, elephants, tiger, lion roaring in sync with the techno party beats. Just as we are about to finalize the show soundtrack, we got a DM from Quincy; Yes, THE Quincy, asked if we need support within show music. He has been a long-time supporter of the brand, wearing our designs to events and red carpets. It was a shock and honor to have him listen to our soundtrack, be impressed with Jess's work, and let us use his song "Coming of strong (Vibez is Private)" for the show finale. The song is perfect to bring the crowd to grand party energy at the end of the show. Since we fashion designers are such visual people, to tie in all the music elements to the runway, we decided to partner with DONNER Music, and have models carrying super chic electric guitars as part of their 90s rocker look. Effortless and confident, our models Cici Tamez and Timur Vagapov are in full rocker character walking down Lafayette street sidewalk and into the hundred-year-old downtown firehouse, like they are just in time for their band performance inside. Later at the afterparty, some more DONNER guitars were gifted to guests, so more can participate. It was epic to have fashion and music tightly integrated at the SS23 show. The clothes become the body and the music becomes the soul.
Shop Now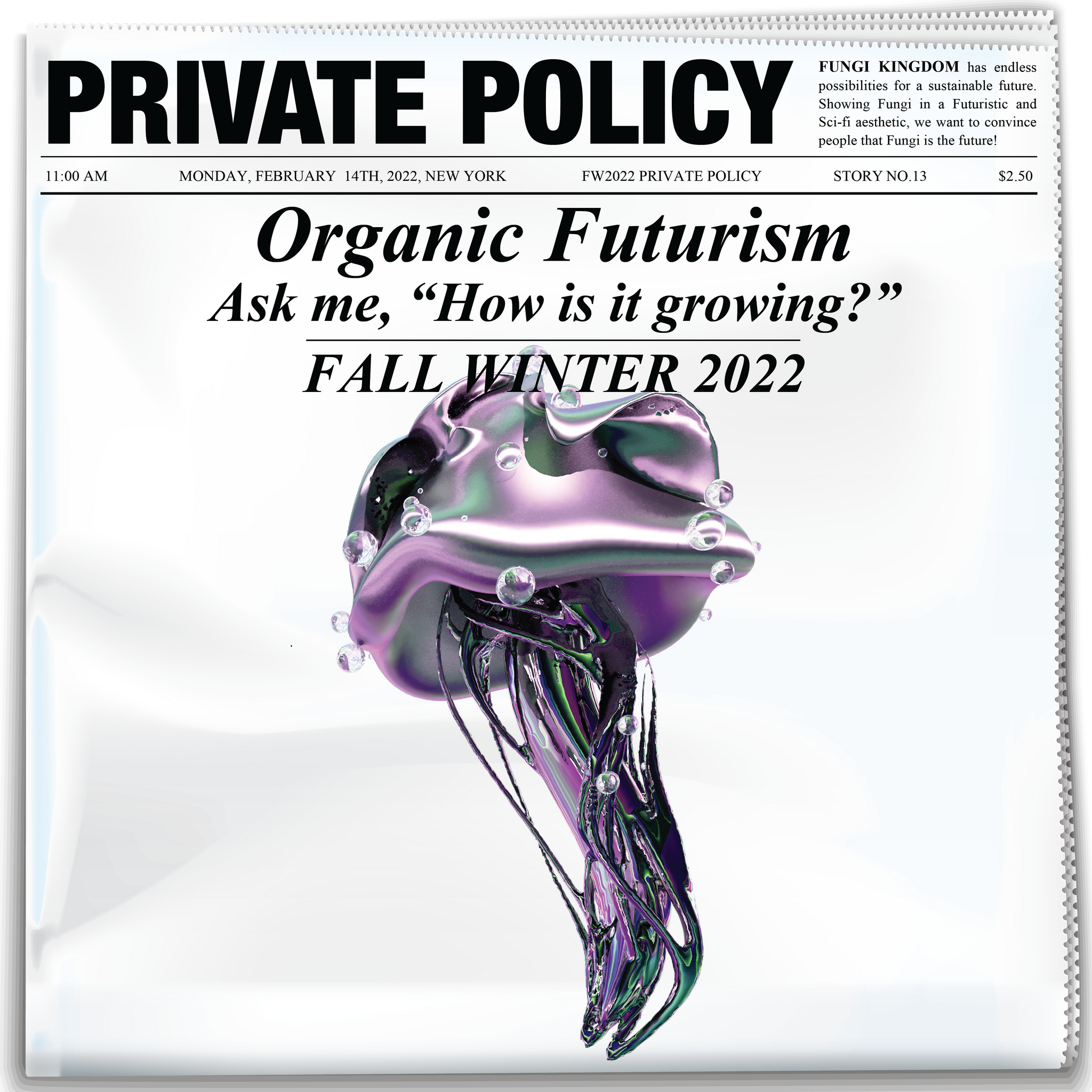 Fall winter 2022 - organic futurism
PRIVATE POLICY is constantly observing and thinking about what social topics we will discuss each season. Fall Winter 2022 collection presents a new perspective of the future, instead of cold, industrial, and rigid, we imagine an organic, fluid, and warm fuzzy future. The very inspiration for our "Organic Futurism" collection is the largest and oldest living organism on the Earth -- the Fungi Kingdom.

Known for its fruity body, Mushroom, Fungi's root Mycelium is also magical because of its usage in solving major environmental issues caused by humans, such as eating plastic, growing into bio packaging and bio-vegan leather, eating fossil oil thus cleaning up ocean oil spills. As we explore outer space, scientists are looking into Fungi's ability to transform a new planet into a livable environment, as it did for Earth. And that is just a peek into what the Fungi Kingdom can do, endless possibilities for a more sustainable future. We want to change the common limited perception of mushrooms, and show off Fungi in a Futuristic and Sci-fi aesthetic, to convince people that Fungi is the future!
Also, we have a very special collaboration capsule group with Coca-Cola. The collaboration designs were featured on the runway show, closely aligned with Coca-Cola's global launches, and pursuit of the GenZ communities, who are big fans of  PRIVATE POLICY style and ideology. It is also a very special, first-of-its-kind collaboration between Coca-Cola, a mega global brand with more than 100yr history, and an emerging fashion brand, that is highly engaged with GenZ because of our social and environmentally conscious perspective. 
Shop Now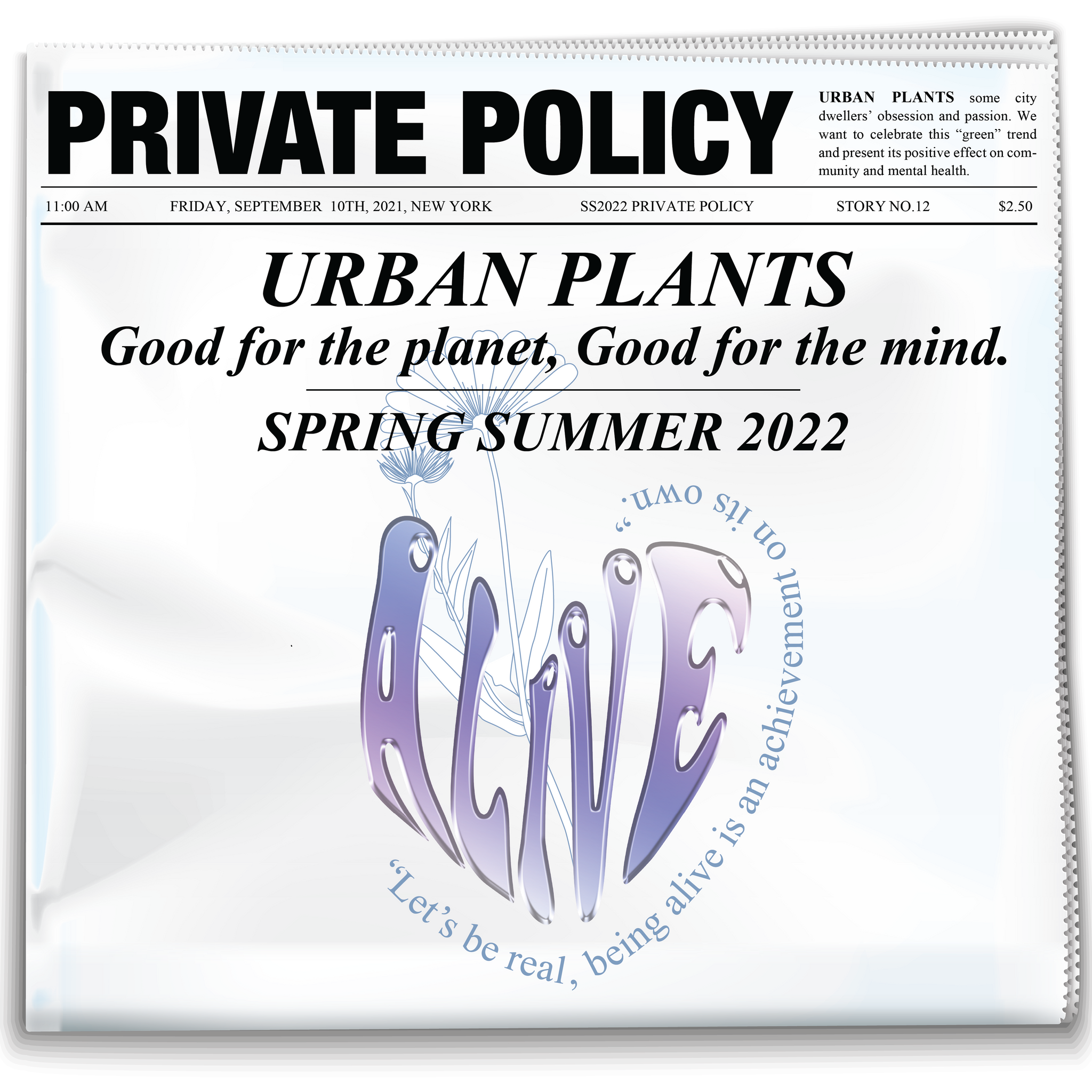 spring summer 2022 - urban plants
For SS2022, the concept is about Urban Plants, inspired by the beautiful phenomenon of city dwellers' obsession with plants. From greenery-filled apartments to city community gardens, from little leaves striving in concrete cracks to grant plans for a future vertical garden city, we are in awe of the relationship of people with these precious greens in urban settings. We want to celebrate this "green" trend and present its positive effect on mental health.

shop now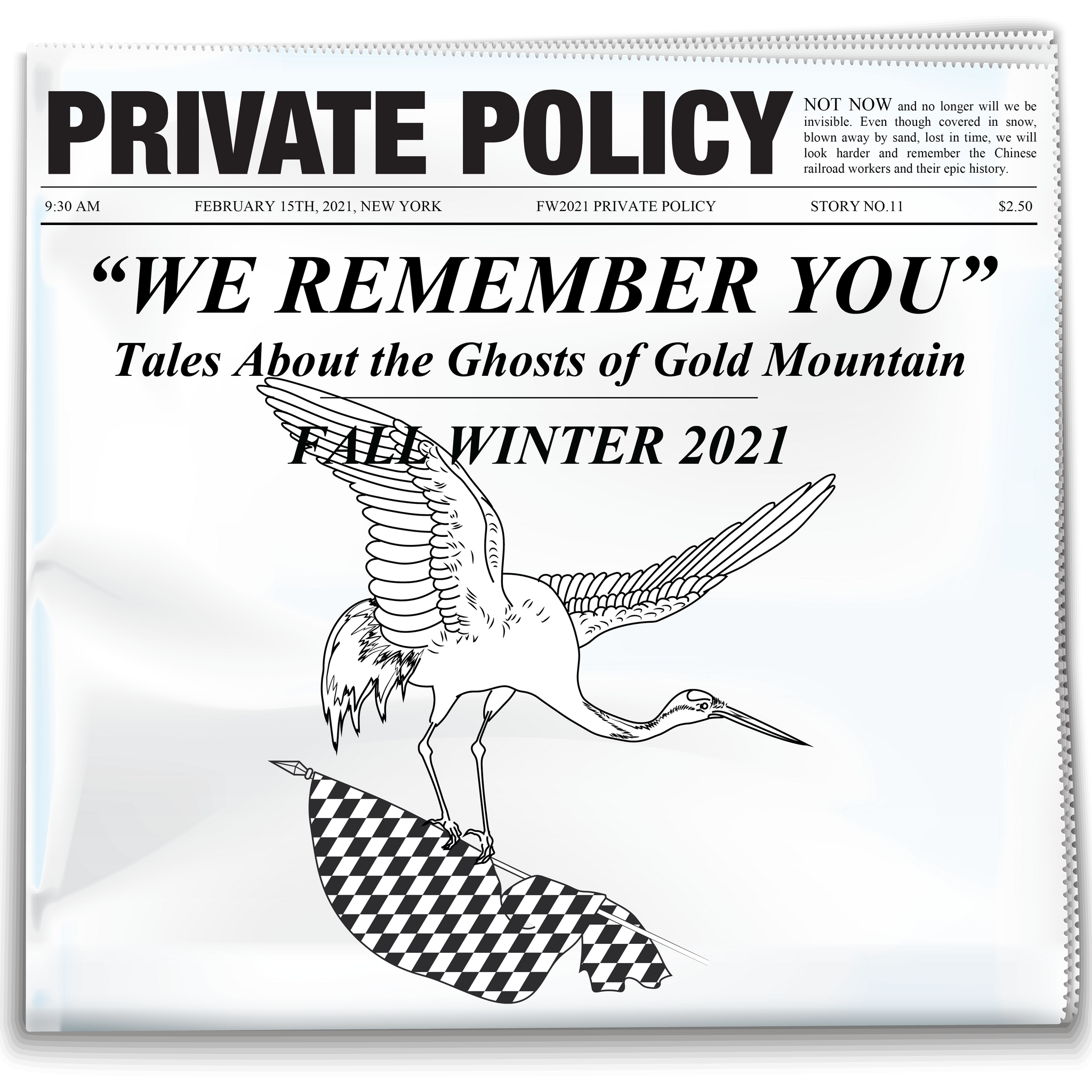 fall winter 2021 - "we remember you"
For Fall-Winter2021collection, PRIVATE POLICY brings awareness to the important yet hidden history of the 1800s Chinese transcontinental railroad workers and acknowledges the xenophobic feelings of that era, while battling similar issues today as a result of the COVID-19 pandemic being perceived as an Asian virus. No longer silenced, people are speaking up about the past and ongoing racism, violence, and prejudice against Asian communities. PRIVATE POLICY chose the transcontinental railroad Chinese's epic story because it declares existence and pride for the previous Asian generations' phenomenal attributions. We look to them for inspiration to stand tall for who we are and welcome others to learn about Asian culture.
ARCHIVE
spring summer 2021 - searching for aphrodite
PRIVATE POLICY is known for its newspaper outlet design process, bringing awareness to social topics and starting conversations. The new collection aims to bring a breath of fresh air, a sense of healing and bliss, which is much needed after a heavy year. The concept is "Searching for Aphrodite," redefining the image of the Greek goddess who embodies "the ultimate beauty" --- spirit of life.

In the modern era, instead of a singular beauty standard, we look for muses who embrace their individuality, celebrate diversity, and encourage others to be confident in their uniqueness. 

Continuing the brand's signature soft harness, we refined the design with multi-colored stitching and delicate buttons. We crafted the harnesses with materials including silk and a symbolic purple holographic sash harness, handmade from recycled CDs. This season, we added soft drapes to our workwear aesthetics to create a comforting and healing sensation. The color palette ranges from gentle lilac and refreshing sage as accent highlights, to classic black from recycled poly faux leather, and shades of whites from biodegradable nylon for a calming atmosphere.

The graphics of the collection contain abstract lines and shapes taken from the famous Botticelli painting of Aphrodite's birth. Instead of worshiping the singular image in the painting, we aim to amplify the goddess' spirit, which can be held by anyone. Positive self-love and self-care are the center of it all.
archive
fall winter 2020 - "get well soon"
Continuing PRIVATE POLICY's socio-political brand DNA, for the FW20 collection, we reveal the dark side of the American pharmaceutical industry. Spending significantly more on marketing than research and development, elongating old medicine patents for raising prices, and collusion with medical insurance companies are just a few of the American pharmas' methods to maximize profit in the expense of patients' health.

In the FW20 collection, we incorporate elements from medical industry uniforms, including lab coats, latex gloves, and nurse scrubs. We seek to bring these details to everyday clothing. Breaking the boundary of the mystic authority that the medical professionals hold, we aim to spark the general public's interest in what is behind the scenes of pharmaceutical industries and facts about the medicine they are consuming.

The graphics of the FW20 collection further reinforce this social issue with a sarcastic tone and comic expressions. These motifs include a teddy bear running away with syringes on its back and a rabbit as a doctor on a made-up medicine package. The metaphors criticize the American pharma's profit game, which not only leads to unfair high prices but also wastes precious time and resources for life saving medicine.
archive